Roses head the popularity rankings all over the world. Find out from Fleurop professionals here how to keep them fresh for even longer: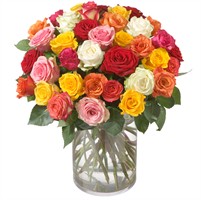 Roses from the Fleurop flower shop are always sold or delivered ready to put in the vase.

If you do not receive your roses in this condition, remove all leaves that would touch the water.

Cut each stem with a sharp knife (not with scissors).

Make a long, diagonal cut.

Choose an absolutely clean vase that is tall enough. For roses, the water has to come at least half way up the stem.

Place the flowers in cool (never ice-cold) water.

Add floral preservative to the water, never use sugar or similar substances instead. Sugar encourages rotting.

Find a cool, draught-free position if possible. If this is not possible during the day, treat your roses to a cool place overnight at least.

When choosing a position, avoid bright sunlight, anywhere close to radiators or fruit, or anywhere behind glass.

If there is floral preservative in the water, top up the water daily.

If you are not using floral preservative, you should change the water every day.

Take this opportunity to cut the rose stems again and clean the vase.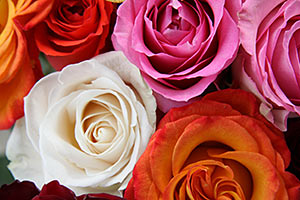 A propos cleaning the vase: the vase has to be really free of germs and should also be free of soap residues. For this reason, you should clean vases - e. g. vases from Fleurop - in the dishwasher if possible. Tip: Kukident or Corega Tabs also work well. Just place a tablet in the vase with fresh water, leave to act overnight and rinse.